Vera J. Camden
Presentation of She Being Dead Yet Speaketh: The Franklin Family Papers. The Other Voice Series (English language series editor, Elizabeth H. Hageman), Toronto: Iter Press and Tempe: Arizona State University Press. 2020.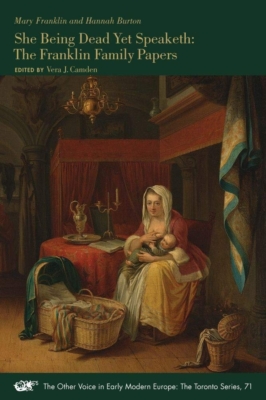 On Black Bartholomew's Day—August 24, 1662—nearly two thousand ministers denied the authority of the Church of England and were subsequently removed from their posts. Mary Franklin was the wife of Presbyterian minister Robert Franklin, one of the dissenting ministers ejected from their pulpits and their livings on that day. She recorded the experience of her persecution in the unused pages of her husband's sermon notebook. In 1782—some hundred years after the composition of her grandmother's narrative— Mary's granddaughter, Hannah Burton, took up this same notebook to chronicle her experience as an impoverished widow, barely surviving the economic revolutions of eighteenth-century London. Collected for the first time, this volume of the Franklin Family Papers offers rare insight into the personal lives of three generations of dissenting women.
Vera J. Camden is professor of English at Kent State University, training and supervising analyst at the Cleveland Psychoanalytic Center, and assistant clinical professor of psychiatry at Case Western Reserve University. She is associate editor of American Imago and American editor of the Journal of Graphic Novels and Comics.
Robert W. Daniel
"'A most precious medicine': The Bedside Bible in the Early Modern Sickchamber"
The sick/death bed was often a site of simultaneous schism and solidarity in post-Reformation England. This presentation explores how the attitudes and acts during infirmity in manuscript accounts, by both men and women, were described as not always religiously divisive but theologically cohesive.  Valetudinarians demonstrated a precise and well-practised biblicism, that is to say the use of the same scriptures, in their writings about their illnesses. This ran across denominations (Quakers, Baptists, Independents, Anglicans) and, at times, the confessional divide. By identifying and examining these patterns of scripture, this talk shows how the ill incorporated broad and attested doctrinal behaviours during their illnesses, whilst occasionally contesting those clerical prescriptions in print. These shared commonalities, both in principle and practice, shed new light on the reading and writing acts employed in the early modern sick-chamber, evincing the ways in which an inclusive ars moriendi literature was disseminated and assimilated in early modern England.
Robert W. Daniel is Associate Tutor in English Literature at the University of Warwick, where he holds the Vice Chancellor's Award for Teaching Excellence. His research examines the religious and literary culture of post-Reformation Britain, with an emphasis on cross-denominational practices. He is the Editor of Bunyan Studies and General Secretary of the International John Bunyan Society.
REGISTRATION DETAILS TO FOLLOW